It's Friday.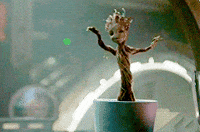 Thank God.
It's been a little slow here of late. But there is some news. We have one project manager still out on medical leave, and a project support person who is out taking care of her very ill husband. That gal took my place on the Flex Unit. I might be stepping back in on a short-term basis while she's away.
My coworker and I have been wearing the same colors every day this week. Because…why not? Matching can be fun. Gray and red on Monday. Turquoise on Tuesday. Only one person noticed: our director. He came in on Tuesday to talk to the remaining project manager, and looked at Lisa then back at me.
Disclaimer: This is not us (above). 
"You're both wearing turquoise…?" he looked a little befuddled.
We both started laughing, then told him our nefarious plan. As it's now the end of the week, he wins the prize for most observant. Nobody else noticed. Lisa did say it made the mornings easier, not having to decide what to wear. Like a uniform, only better, and no itchy tags or polyester pants without pockets. Today is royal blue and white. Anyone else up for the challenge?
And spring happened. Like, for real.
I'm sure by next week, when the temps soar into the 70s (!), the magnolia tree will be in full bloom.
Jonathon bought me these. They smell amazing and are so vibrant.
Ruby, visiting with Isaac's chick named Blue Fuzz. No relation to Hot Fuzz. Ruby is the chicken whisperer.
And last but not least, the newest darlings of the Susan running shoes panoply. I used these babies today on a short run. They have a little bit of bright green, a spritely addition, on the toes and under the mesh. Yes, they are Asics. Yes, these are the shoes the podiatrist pooh-poohed. The new inserts will take some getting used to. But I love them. My foot is better and I think as long as I continue to keep stretching my calves and wearing the plastic half orthotics in my regular shoes, I'll be fine.
What have you been up to this week?